The Fur Trade in Minnesota's Historic Northwest Exhibition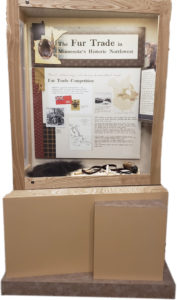 "Here in northwest Minnesota, a global trade network flourished from 1730 to 1850. The small, slow-moving waterways and abundant poplar trees made excellent habitat for beavers. Trappers, traders, and voyageurs canoed the Red, Rainy, and Mississippi Rivers…bringing goods to and from markets around the world." Thus begins the text for a new and far-reaching museum exhibit about life in northwest Minnesota that existed right here in our own part of the world in the eighteenth and nineteenth centuries.
The project was funded by a grant of over $90,000 from the Minnesota State Historical Society and has been carefully and thoroughly researched and constructed by Museology, an organization that works with local museums to develop exhibits, programs, partnerships, and other interpretive strategies.
This unique traveling exhibit, 'Fur Trade in Minnesota's Historic Northwest' is featured throughout 15 locations in Northwest Minnesota, each location has one display. A person can travel to different locations to see the displays or visit your local organization every couple months to see the new display.
Exhibit Display Titles:
Fur Trade in the Northwest
The Selkirk Colony
David Thompson's Survey
French Explorers in the Middle of North America
Geography and Climate
John Tanner, the Falcon
Changing International Borders
Zoongab Adik
Ox Cart Trails
The 1837 Bottineau/McLeod Expedition
The Metis
Makadewiiyas – Pierre Bonga Family
Smuggling by Ox Cart
Water Transportation in the Fur TradeFur Trade Competition
You can find these exciting and interesting exhibits at the locations listed within this brochure.
Plan a road trip to see the displays or watch for information from your local site to see what portion of the exhibit is currently on display at their site. The exhibits are scheduled to rotate in April, August, and December throughout the 15 locations.