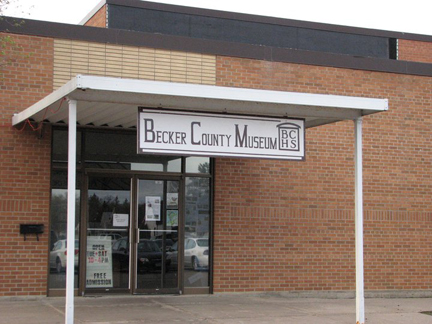 FREE ADMISSION!
BECKER COUNTY HISTORICAL SOCIETY AND MUSEUM
In 1882, the citizens of Becker County recognized the need for preservation of the history of their community. The result was the Pioneer Settlers Union. This group, comprised of many of our founding residents, actively worked to preserve the history of their community as it was happening. In 1924, this organization was renamed the Becker County Historical Society which started the Becker County Museum in 1943. All the while the mission stayed the same: "To preserve and communicate the history of Becker County and its people to all generations."
The Becker County Museum is located in Detroit Lakes, MN and offers 10,500 square feet of exhibit space.  Permanent exhibits include prehistoric (fossil) and Native American history, natural history, a pioneer cabin, logging display, lake cabin, turn of the century pharmacy, military displays, a textile display, buggy, sleigh, horse drawn hearse, and the "World's Smallest Gas Station".  Rotating exhibits are housed in the Marly Rislund Exhibit Gallery.
Our research library offers access to vital records, family histories, township histories, county histories, and files on regional businesses and homes.  We also have a collection of more than 14,000 photographs that are available for reproduction.  Additionally, we offer research assistance at $6.50 per hour plus postage for those of you who live outside of the Becker County area.

In July of 2015, the Becker County Historical Society will be kicking off a capital campaign for a new museum building.  The new 16,810 square foot building will feature a large exhibit gallery, meeting room for 40+ that will be available for public use, a state of the art mechanical and climate control system to help preserve the artifacts and archival collections, and a single story design that will make the entire facility handicapped accessible.  We look forward to making this project a reality!  Can you help?  Please contact Amy Degerstrom, Executive Director, at 218-847-2938 or admin@beckercountyhistory.org.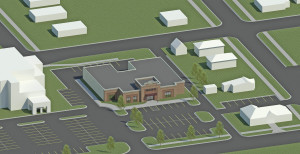 LOCATION
714 Summit Avenue
Detroit Lakes, MN 56502
HOURS OF OPERATION
Memorial Day weekend-Labor Day weekend: Tuesday-Saturday from 10:00am-4:00pm                                   Remainder of the year: Tuesday-Friday from 10:00am-4:00pm (Saturday visits available by appointment)
Group tours and meeting times available outside of regular hours by appointment.
CONTACT INFORMATION
218-847-2938
admin@beckercountyhistory.org (Amy Degerstrom, Executive Director)
research@beckercountyhistory.org (research requests)
WEBSITE
For the most current information regarding BCHS, please visit us on the web at: www.beckercountyhistory.org
GIFT SHOP
The Becker County Museum Shop offers objects relating to Becker County and the Lakes Region.  A large selection of books on local, regional, and state history along with several area cookbooks give you the opportunity to dive further into the things you have learned on your visit! We also offer birchbark baskets and other products woven by regional artist Dawn Norton and BCHS logowear.
MEMBERSHIP
Memberships help to support our mission and programming.  Many levels make membership possible for all and we sincerely appreciate your help to keep history alive in Becker County.  Please visit our website (www.beckercountyhistory.org) to purchase your membership today or call 218-847-2938 and we can mail you a membership form.