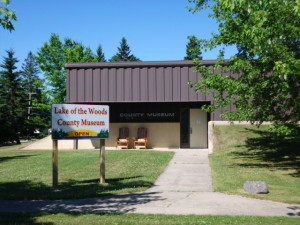 Lake of the Woods County Museum
A local history museum that connects visitors with the area's colorful past from geology and natural history, to early peoples, fur trade, settlement and the development of the fishing, logging, farming, pharmaceutical and tourism industries. Exhibits also capture significant events that helped to shape the county – the Great Forest Fire of 1910, the construction of the International Bridge from Baudette, Minnesota to Rainy River, Canada and the birth of Willie Walleye. The museum library and archives welcomes researchers and genealogists.
Free admission – Donations appreciated.
Location:
119 8th Ave. S.E. Baudette, MN
One block off Highway 11 on 8th Ave. S.E.
Hours of operation:
mid May – October: Monday – Friday, 10 a.m. to 4 p.m. and Saturday, 10 a.m. to 2 p.m.
Oct ~ mid-May: by appointment
Telephone number:  218-634-1200
Website address:  lakeofthewoodshistoricalsociety.com
Email address:  lowhsociety@gmail.com
Mailing address:
206 8th Ave SE, Suite 150
Baudette, MN 56623
Contact person:  Lindsay Marshall, Executive Director
Special Events:
Featured Exhibit:  In depth look at the 1910 Forest Fire – The Response, Relief, Rebuilding and Recovery.