Polk County Historical Society…Crookston, Minnesota
The purpose of the Corporation shall be the discovery, preservation and dissemination of knowledge about the history of Polk County.  To collect and display any material which may help to establish or illustrate the life, conditions, events and activities of the past or present.   To disseminate historical information to interested persons and institutions and arouse interest in the past history of Polk Country.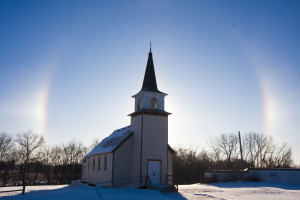 The Polk County Historical Society  has been collecting and preserving  the inspiring  story of the people of Polk County for  75 years.  Books, maps pamphlets, newspapers, pictures and other objects have been collected.   The museum.s authentic exhibits show how Valley pioneers lived, the tools and implements they worked with, the clothes they wore, the utensils and furnishings they used in their homes and countless other articles related to other aspects of their lives.  The museum was located at the old McKinley School for several years and in 1976 was moved to its present location, the former Glendenning building on the east side of Crookston.
The main museum, a large modern structure, contains a well furnished kitchen, living room and bedroom, a general store, doctor's office, barber shop. Beauty shop, communications center (telephone and switchboard center), a 50 year old model electric train and musical instruments.  Here too, stands a square piano made in Boston, and an amazing assortment of ladies hats.  Antique tools, and many old records, including newspapers on microfilms, dating back to the mid 1800's, cemetery locations and names of persons buried there.  There is also a chapel and a composite of furnishings from several churches.
Outside buildings include a large collection of farm machinery of  all kinds including about 20 different antique tractors in running condition, a Fairchild single seater airplane used for crop dusting, a collection of many fire fighting trucks and other items, an  1870 log house, two room log house built in 1881, a one room school house (all completely furnished), a blacksmith shop and a church dating back to the late 1800's (also completely furnished).
We do provide genealogy research services and other historical document research for a donation of $10.00 per hour.
Location: On US Highway 2 on the east side of Crookston
Hours of operation. 12:00 noon to 4:00 pm,  Tuesday through Sunday (closed Mondays) from the Tuesday after Memorial Day to the second weekend of September.
Tours and special appointments can be arranged.
Free-will donations appreciated.
Museum phone number:  218-281-1038
Mailing address:   Polk County Historical Society, Box 214, Crookston, MN  56716
Contact Persons: Anne Muir
Email: polkhistorical@gmail.com
Special Events: Pioneer Day celebration  in September.