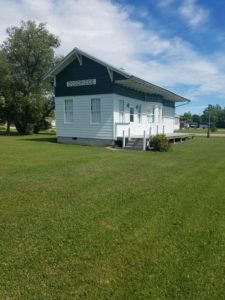 Pennington County
Goodridge Area Historical Society began and originated in 1978. The Goodridge Area Historical Society started with a log house, log storage barn, and the original telephone building of 1915 which was operated by Garden Valley Telephone Company. Some other buildings that were added were the Woodrow School House, Country Store and Museum, Train Depot, the Brown House, and the new Settlers Building and Gazebo in Tvedt Park. The Tvedt Park also began in 1915.
The Society also collects historic items for the buildings.
The Goodridge Area Historical Society's purpose is to help preserve history and shed light on the future. We have 15 members and many who donate their time for the Historic Society. Officers are Margie Coan: President, Marie Adams: secretary, and Josh Tharldson: Public Relations.
Hours: The buildings are open by appointment during the summer months and holiday weekends which include Memorial Day, 4th of July, and Labor Day.
Admission: free but donations are welcome!
Location: Goodridge Area Historical Museum, 12261 300th Ave NE, Goodridge, MN 56725
Contact: Margie Coan margiecoan@gmail.com
Phone: 218-378-4385