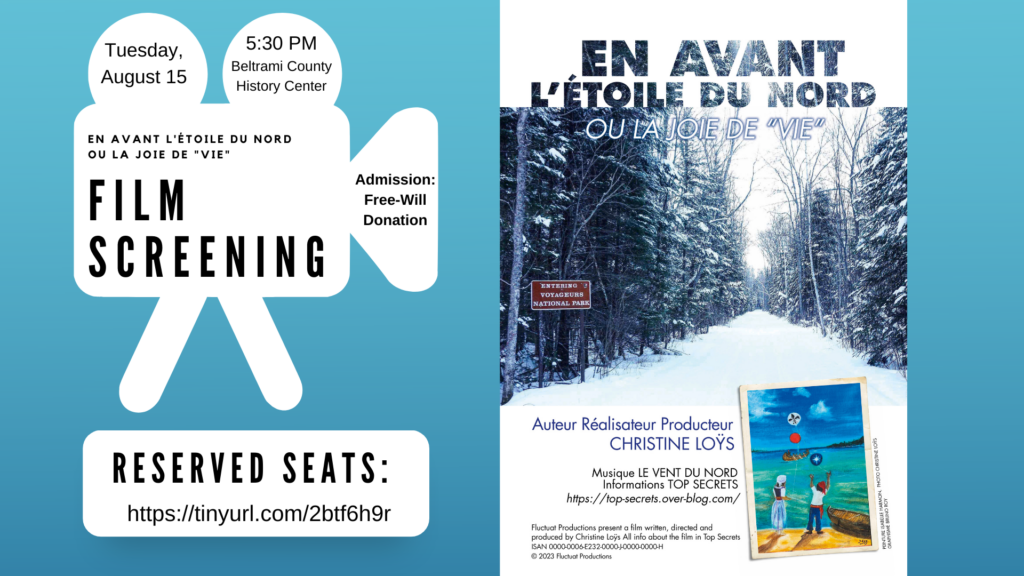 BEMIDJI, MN – Film Screening of En Avant L'Étoile Du Nord with Christine Loÿs
Beltrami County History Center invites you to a film screening for En Avant l'Etoile du Nord: Ou La Joie
De "Vie" on Tuesday, August 15, at 5:30 PM at Beltrami County History Center (130 Minnesota Ave.
SW, Bemidji). En Avant l'Etoile du Nord: Ou La Joie De "Vie" is a documentary by independent journalist
Christine Loÿs exploring French history, heritage, and identity in Minnesota. The film is 62 minutes long;
Ms. Loÿs will attend to introduce and answer questions about her film.
In place of admission, free-will donations support Ms. Loÿs' future research. Seats are limited; please
reserve a seat to ensure your spot for the screening!
Christine Loÿs lives in Paris, France. Originally a teacher, she has been an independent journalist for over
30 years and contributes to many media, including television. She developed her English writing and
storytelling skills, mainly in the medical press on health and medical topics. She also writes about
current affairs and economics for women's magazines like Marie-Claire and more political ones like
L'Evénement du Jeudi under Jean-François Khan, Jeune Afrique, and Medef Magazine. Loys' numerous
travels and contacts in the U.S. and Canada allow her to work today on various subjects concerning the
history and culture of the French Voyageurs and their continued presence through their descendants in
Minnesota and the Midwest. She is also working on evidence of the French throughout the United
States.
To reserve your seat, please visit the History Center's event website (https://tinyurl.com/2btf6h9r) or
call the Beltrami County Historical Society at 218-444-3376.